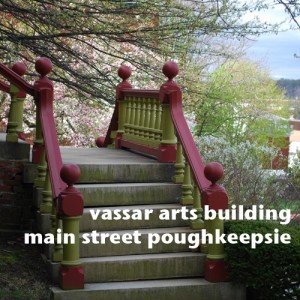 So you may have noticed that BGHV Weekend looks a bit different this week.  In the interest of giving you guys a better look at what's going on – not just this week, but several weeks down the road – we here at BGHV have decided to make better use of our calendar.  Sure we've had it up for a while, but it will lie fallow no longer.  We'll be posting all upcoming events there and all you have to do is click on each one to learn more about it.
The best part about it?  We want you to join in! Drop us a line with your event date, info and a link to any pics and we'll post it for all the community to see.  We want this to be a space everyone can use, so send us your info as it develops.
In other gay-related news this week, we took a walking art tour of Main Street Poughkeepsie last weekend that is not to be missed! Our buddy Frank Palaia, the owner of G.A.S. gallery – Poughkeepsie's ONLY remaining art gallery thanks in great part to the City's lack of arts programming support – hosts a two-hour tour of the more than 20 pieces of public art in the lower Main Street corridor.  Stay tuned for a BGHV sponsored trek through this all-American city.
And the wait is at last over!  Glee is back! Kudos to a program with such fresh originality that can tastefully pull off the line "Dolphins are just gay sharks, you know".  For those who missed it or have yet to convert, perhaps one Sue Sylvester can persuade you otherwise.
---
There's some cool stuff coming up this weekend, check out the highlights below and be sure to hop over to the calendar to get the full agenda.  Have a great weekend!
"Macbeth" @ The Center for Performing Arts, Rhinebeck @ All Weekend
BGHV's resident culture vulture, Jay Blotcher, reviewed the Center for Performing Arts' reinvention of this Shakespearean tragedy and, needless to say, he was a little more than enamored with the show…and the beefy lead.  With a set designed by acclaimed Broadway man Richard Prouse and starring BGHV frequenter, Bill Ross, this macabre interpretation – in the words of Blotcher – has it all.  They've got performances running all weekend long, so drop up and check them out.
4th Annual LGBT Comedy Night @ The Nyack Center, Saturday @ 7p
Gay Pride Rockland is beyond thrilled to be hosting their 4th annual comedy night hosted by Nyack's own Richard Skipper (reference his AMAZING Carol Channing impersonation).  Vickie Shaw (a self-proclaimed "Texan by birth, lesbian by Grace") is back by popular demand, headlining the show with Kelli Dunham (the ex-nun).  Show starts at 7p but doors open at 6p.  Tickets are $15 in advance, $20 at the door.
"Transilluminations" Opening @ M Gallery in Catskill, Saturday @ 6p
Jonas Caufield (AKA "Jack Flack") proudly unveils his new collection of works exploring the ever-blurring line of gender identity.  Seen through the focus of fashion, he explores non-traditional and gender inappropriate perspectives on style to open the dialogue about alternative lifestyles within our community.