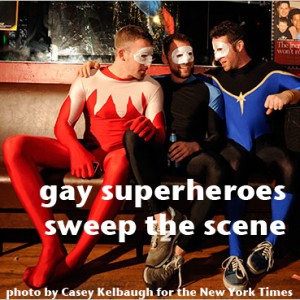 Hey everyone!  Welcome to another edition of BGHV Weekend.  In case you missed it this week, President Obama issued a memorandum to his health secretary ordering him to issue new rules aimed at making it easier for gays and lesbians to make medical decisions for their partners.  The President's order – affecting all health care institutions nationally that accept Medicare and/or Medicaid funding -is a huge step forward in recognizing the needs of all families, regardless of how they're constructed.  While we couldn't reach any representatives from local health care providers, Lance Ringel, the President of the Hudson Valley LGBTQ Center, called the move a "symbolic recognition that non-traditional families are every bit as much families as traditional ones."  What does Obama's decree mean to you?  Leave us a comment below –
The other end of the NYTimes gay newsreel brought us back to Stonewall for superhero themed parties.  While quite the fan of the superhero concept myself, as well as muscled men in tight bright shirts, is this going too far?  Even for the NYTimes?  I'm thinking Superman Sundays in the Hudson Valley?  Drop us a line and share your thoughts below!
This weekend's got some cool stuff going on, so be sure to check out our calendar to stay a 'mo in the know.  And keep the event info coming – we got tons of great submissions this week!  Drop us a line with your event info and we'll put it online for all the community to see.  Now get out of the house, enjoy the nice weather and have a big gay weekend!
---
BGHV Weekend Highlights
Morry Campbell Performs
Saturday April 25th @ Cafe Bocca, Poughkeepsie @ 7:30p
Out singer-songwriter, Morry Campbell, is bringing his tour to Poughkeepsie's Cafe Bocca.  Originally from Montana, Campbell now lives and performs in NYC, having venues like Don't Tell Mama, CBGB's 313 Gallery, The Vintage Cafe and The Creek and The Cave in his cache of sites played.  Catch him for this intimate evening for only $5.  Presented by Markus Payne Management.
"Outcomes" Screens at the Kent Film Festival
Saturday April 25th @ Kent Film Festival, Kent CT @ 11:45a
"OUTCOMES", LGBTQ stories from the Hudson Valley, is a documentary short drawn from interviews with an array LGBTQ people residing in New York's Hudson Valley who have come out of the closet, putting a human face on a highly politicized subject. The subjects include Alix Dobkin, a lesbian musical pioneer and feminist icon from the 1970s; Leigh Noble,a Trans mathematician; Ted Hayes, a former Baptist minister; Anise Cruzado, a Latina beautician; and Ron Nyswaner, screenwriter of the groundbreaking film Philadelphia and gay rights activist.  The project was co-produced with the Kingston LGBTQ Community Center with support from the Dutchess County Arts Council.
Happy! Happy! Up! Up! Pixar Short Films & Dinner w/ Trixie
Wednesday April 28th @ Space360, Hudson @ 6:30p
The Iron Maiden of Hudson, Miss Trixie Starr, presents dinner and a movie with the best of Pixar.  $20 a head serves dinner by Chef Danyell, a free glass of wine and dessert from Trixie's Ovens.  RSVP on the facebook invite (link above).