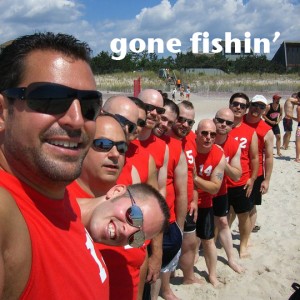 Hey everyone – with the dog days of summer in full swing, things are rather quiet in the Valley this weekend, so we're hanging out the "Gone Fishin'" sign.  National headlines are burning up, however, as gay marriages will resume in California per a ruling this week.  365Gay.com's John Culhane posted his take on what the Prop 8 stay could mean for the future of marriage equality across the country – what do you all think about it?  Could it mean an overturn in NY and possibly the whole country?  Leave us a comment below or drop us a line on Facebook with your thoughts.
Congrats to our "Hudson Valley of the Balls" buddies on their return from this past weekend's BigBang Dodgeball tournament (thanks for the cover shot, guys!).
Should you find yourself foraging around for adventure this weekend, check out the Salute to Samuel Barber concert this Saturday for a bit of classical whimsy in the woods.  Otherwise the Event Calendar is always up and running, so check it out and Stay A 'Mo In The Know.  Have a great weekend!