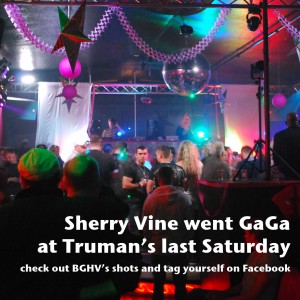 Happy Valentine's Day Hudson Valley residents!
Thank you to everyone that came out last Saturday night to join us for the Sherry Vine show at Truman's – We had close to 200 of you there for the show, and a great time was had by all! In case you missed it, one of the attendees shot a short video and posted it to Facebook. We got a TON of great photos from the event, and you can check them out – and tag your friends – in the Facebook event album.
Chances are you might have been wondering what all the fuss was about that last "snowstorm" we had, and unlike that storm, BGHV is sure to not disappoint you, as there is plenty happening here in the Hudson Valley this weekend.
Looking for a fun way to celebrate Valentine's Day with either your friends – or maybe that special someone? The live Rufus Wainwright show on Friday night in Poughkeepsie is sure to be a great time. Looking to see live a performance? Consider going to see the premiere weekend for Falsettos in Rhinebeck. Looking to get your groove on? There are plenty of opportunities to dance on Saturday night, if you are looking for a fun night out on a budget? Be sure to check out the free art show on Satruday night in Poughkeepsie's Luckey Platt Building, and then wander down Main Street from there to either Emiliano's for a slice, or Soul Dog for a delicious weiner.
Whatever you decide to do this weekend, we hope you enjoy it!
Now, on with the listings!
---
Thursday Feb 11th
Men's Group Meeting @ The Hudson Valley LGBTQ Community Center, Kingston @ 7p
The (very active) Men's Group will be meeting for a discussion night at the Center.
Women's Discussion Group @ The Hudson Valley LGBTQ Community Center, Kingston @ 6:30p
The subject for this week; prejudice. The women's group meets the second Thursday of each month, and all women are invited to join the discussion.

Truly Tipsy @ Trumans, New Paltz @ 8p
Start the weekend early with Thursday night lounge.  Prephab spins, Evan pours and drinks & apps are served up at half price.  $5 at the door after 10p, so get there early!
---
Friday Feb 12th
Rufus Wainwright Serenades Poughkeepsie @ The Bardavon, Poughkeepsie @ 8p
Don't miss the acclaimed gay singer/songwriter's one night stint in the Valley – get your tickets now!
Falsettos Opening Night @ The Center for the Performing Arts, Rhinebeck @ 8p
Running now through February 28th; Fridays and Saturdays 8PM, Sundays 3PM, this gay-themed show is one not to miss. Saturday night, February 20th, is a special benefit for the Hudson Valley LGBTQ Center.
---
Saturday Feb 13th
Hudson Valley Out & About With Family @ Castle Fun Center, Chester @ 1p
Everyone is welcome to meet Susan, Cindy, & their family at The Castle Fun Center in Chester for an afgternoon of fun featuring
mini golf, go-karts, bating cages, arcade, roller skating, laser tag, rock climbing, and more. Cost is $7.50 per person and $3.00 skate rental. Please RSVP to Membership@hvoutandabout.com
Inter-Generations Sundae Social @ The LOFT in White Plains @ 11:30a
Westchester's LOFT invites you to join them on Saturday the 13th as LOFT Seniors and LOFT Kids will be celebrating an early Valentine's Day together. Both groups will come together at 12 noon for a Valentine's Ice Cream Sundae Social with cupcakes and fun!
The Suspended Hour Art Show & Party @ Luckey Platt Building, Poughkeepsie @ 5p
The Luckey Platt Arts Collective will open its second exhibition; "The Suspended Hour," to the public at 5pm. The exhibition will present the work of three female artists — Ilana Bram, Kimberly Brickley, and Sten Miller — whose work seeks the edges of the natural and the artificial, the real and the imaginary. Word on the street is that its a very queer-friendly space, so check it out.
Hearts for ARCS Ball @ C.V. Rich Mansion, White Plains @ 7p
AIDS Related Community Services is holding their annual benefit ball in White Plains, and tickets are still available for $150 each. Dinner, Dancing, and a Fantastic Auction with the proceeds raising funds for ARCS. Special hotel packages also available for those that wish to party the night away to the early hours of the morning.
Trixie's Whorehouse: Valentine's Day Party @ Red Dot, Hudson @ 10p
Come join Trixie and DJ Gio at Hudson's Red Dot Cafe for their first-ever RED Party! Cover $10 at the door, and includes one drink! Be sure to wear red!
EGOManiac Party @ Primetime, Highland @ 10p
Isis is away, although the boys of G-Maf and Prephab are taking over Primetime for the night – come on out and party with them. Shows at 12 midnight and 1am.
---
Sunday Feb 14th – Valentine's Day

Valentine's Day Tea Dance @ Teddys Night Club, Mt Kisco @ 4p
Valentine or no Valentine, this is your dance.  Christine & Robin from 2-4-1 Entertainment will DJ and perform.  Not just your typical Dance, but more!  $15 over includes Appetizers & Raffle Ticket. Bring a new member to register on the JoZ email list & get an extra Raffle Ticket.
Retro Dance Party @ Truman's, New Paltz @ 8p
We are back on for a night of Retro Disco with DJ "Freaky" Frankie Ramos spinning club music from the 70's & 80's, that will keep you nonstop on the dance floor. It's Valentine's day with a perk of having off Monday, (President's holiday), so get out and party at Truman's!
---
Monday, Feb 15th
Mid-Hudson Valley Gay and Lesbian Professional Alliance Dinner @ Cappuccino's, Poughkeepsie @ 6pm
The MHVGLPA will meet at Cappuccino's on Route 9 in Poughkeepsie for their regular monthly gathering, the group asks that interested individuals please RSVP via their website by Friday, Feb. 12th. Cocktail hour starts at 6pm, and dinner starts at 7pm.
---
Coming Down the Pike
Feb 27th: Jeffrey Wilgus @ Cafe Bocca, Poughkeepsie @ 7:30p
March 13th: Hudson Valley LGBTQ Center Gala @ Grandview, Poughkeepsie @ 6p