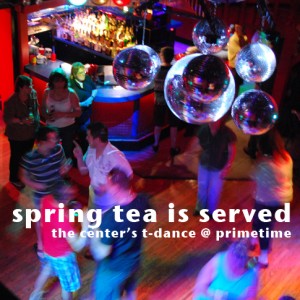 Welcome to another big gay weekend!  Thanks to the over 140 of you guys & gals who joined us for last weekend's LGBTQ Center Spring T-Dance at Primetime.  And while pride season is getting underway, this weekend is devoted to everyone's favorite girl – good 'ol mom. Paying homage to the woman who brought you into this world means different things to different people. What's your favorite way to say "I Love You, Mom"?
And speaking of moms, we had the chance to meet local power mom, Didi Barrett, this week. Running as a democratic candidate for the Empire State's 41st Senate District (currently seated by anti-marriage equality and all around un-friend of the gays, Steven Saland), this Millbrook-based powerhouse is sweeping the Valley with messages of equality for all and support for local initiative from the arts to agriculture and small business growth. And did we mention she does it all looking super fierce? Check out her campaign and show her the support she's showing our community. She'll even be joining us at this year's Pride Preview Party on Friday May 28th at Locust Grove in Poughkeepsie, so you can come out and shake her hand yourself.
And for those aspiring to motherhood (or even fatherhood), news came from New York State's highest court on Tuesday that nonbiological parents involved in same-sex relationships have rights similar to those of biological parents.  The ruling, outlined in the New York Times, was called "a real breakthrough" by Lamda Legal.
There's a bunch of great art & theater opening up this weekend, so bounce over to the calendar to get the full 411 on what's good and what's gay in our backyard.  And if you yourself are hosting or know of any fab events going on, drop us a line and we'll share them with the entire community.  Have a great weekend!
---
BGHV Weekend Highlights:
Full Monty Opening @ County Players, Wappingers Falls
The acclaimed hit that promises to bare it all opens in Wappingers Falls this weekend. The County Players – voted the #1 community theater group in the Valley – are reinterpreting this modern hit. Worried it'll all be too much for mom? Please, how do you think families get started?
My Fair Lady Opening @ Center for Performing Arts, Rhinebeck
On the sophisticated end of the culture spectrum this weekend is the opening of My Fair Lady at the Center for Performing Arts in Rhinebeck.  "Wouldn't it be loverly?" to shower mom in the pomp and circumstance of such acclaimed sophistication?
Joseph and the Amazing Technicolor Dreamcoat @ New Paltz High School, New Paltz
Here's your chance to repay mom for all those bedtime stories she read to your sleepy eyes and ears each night.  Following the story of eternal dreamer, Joseph, this adaptation – produced by fab-u local theater group "90 Miles Off Broadway" – is a shoe-in for putting on a smile on the face of the lady in your life who wears each and every multi-colored coat.