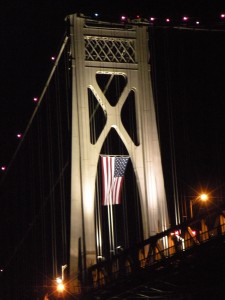 Hey Everyone –
The wheels just keep rolling forward in the movement for marriage – congrats to Maine!  We've said it before and we'll say it again – if you have yet to call your reps and express your approval of gay marriage legislation in New York…do it now!
In other news, Big Gay Hudson Valley has been nominated for the Dutchess County Economic Development Council's "Rising Star" award for best tourism website in Dutchess county!  Awards will be announced this week, so stay tuned for further details!
And now, on with the homo happenings!
May 8th – May 10th
Psycho Beach Party, Rhinebeck, NY @ 8pm
The Sound Of Music, New Paltz, NY @ 8pm
May 8th
Special Presentation; Alzheimer's Project, LGBTQ Community Center, Kingston, NY @ 9:30 AM
May 9th
Motherfest @ LGBTQ Community Center, Kingston, NY @ 4pm
Hudson Valley Horrors Rollerderby Season Opener Party, Kingston, NY @ 9pm
Twilight Guard Leather Night; Danbury, CT @ 10pm
"River of Dreams" signing, Catskill, NY @ 5p
You are invited to a presentation and book signing of the new book "River of Dreams" by Hudson Talbott on Sat. May 9, 5PM to 6:30 PM at the Union Mills Gallery, 361 Main St., in Catskill.  Joining Hudson will be Frank Cuthbert, the composer of the music for the musical play  version of "River of Dreams", and also several young cast member students from Greene County schools who will be singing Frank's tunes from the play.  The event is free to all.
May 10th
Mother's Day Brunch @ The Would, Highland, NY @ 11am – 3pm
$25 per person, Reservations Suggested: 845.691.9883
And don't forget to mark your calendars – we're now just 3 weeks away from BGHV's "Pride Preview Party" at Locust Grove in Poughkeepsie on May 29.  See you all there!
Get out there and show some love to your momma and have a big gay weekend!