Since starting Big Gay Hudson Valley in February of 2009, we have met a tremendous amount of gay-owned, and gay-friendly businesses throughout our area. Recognizing that it is critical for our community to support one-another to make our presence stronger, we created The 12 Gays of Christmas to keep all of us informed about our allies and supporters – and to help us all make wise choices as to where we spend our dollars this holiday season.
Yes, we realize that not everyone celebrates Christmas – or a holiday at all – so please realize that The 12 Gays of Christmas is not meant to be theologically specific. Frankly, we thought it was just cheeky. That said, whether you celebrate Christmas, Hanukkah, Kwanzaa, or anything else, we wish you the best for a great Holiday season!
We are also giving away a number of prizes associated with our 12 Gays of Christmas campaign from many of our supporters! However, to be eligible, you've got to have signed-up for our mailing list. If you are already receiving our e-mails, then best of luck – You are already entered! If not, please click here to sign-up and enter the drawing.
Now, please scroll down and check out some great holiday gift ideas from retailers that support our community.
---
Oblong Books & Music,

Rhinebeck & Millerton
Oblong Books & Music, located in the villages of Millerton and Rhinebeck, is the Hudson Valley's premier independent bookstore. Open every day, Oblong stocks over 30,000 titles in-store and tens of thousands more on their website.
For your holiday shopping, they offer gift wrapping, shipping, wish lists, and gift cards. For The 12 Gays of Christmas, they recommend picking up two of this season's hottest titles from HarperCollins Publishers: Green Porno by Isabella Rossellini and Matchless: A Christmas Story by Gregory Maguire.
Inspired by the wonderfully odd and humorous short films created by Isabella Rossellini and released on DVD for the first time, Green Porno offers a visually arresting and scientifically accurate look at the sex lives of marine animals and other creatures. This book will make you see the animal kingdom as you never have before.
Of course, you can shop Oblong Books and Music online, but if you prefer to visit their stores you'll find them at 26 Main Street in Millerton, or in Montgomery Row in Rhinebeck.
The Artist's Palate,

Poughkeepsie
The Artist's Palate restaurant occupies what used to be the popular clothing store, M. Schwartz on Main Street in downtown Poughkeepsie. Offering Gift Certificates for the holidays, Megan and Charlie Fells – owners of the restaurant have been one of the first come into downtown Poughkeepsie with the passion to redevelop the city's downtown core.
When dining at the Artist's Palate, you feel like you are sitting in the West Village of Manhattan. Comfortable and intimate, the restaurant focuses on seasonality and showcases the owners' passion for food as well as the talented artists of the Hudson Valley.
The Artist's Palate strives to provide its customers with the freshest local produce and ingredients possible while still providing affordable, reasonable prices. The lunch menu is available for delivery within the city between 11am – 2pm. Open 5 days a week for lunch, and 6 nights a week for dinner, the Artist's Palate is also a great place to throw a Holiday Party.
Offering a unique party space next door, be sure to visit Meagan and Charlie sometime soon, at 307 Main Street in Poughkeepsie – and be sure to tell them that BGHV sent you.
bluecashew,

Rhinebeck
Having recently moved from High Falls to Rhinebeck, gay business owners Sean and Greg are setting the pace for kitchen fabulousness at the new bluecashew Kitchen Pharmacy.
Since 2004, bluecashew has blazed a trail of innovation, fusing utility & design into a well merchandised specialty kitchen experience.
At bluecashew Kitchen Pharmacy, Sean and Greg pride themselves on finding the most unique and classic quality goods with an all budget friendly understanding. Their categories include professional cutlery, cook & bakeware, culinary tools & gadgets, barware, tabletops, stemware, small appliances and select provisions that best represent their modern taste and quality.
At bluecashew they strive to be inspirational, informed, courteous and never underestimate our customers. Whether you are looking for a simple stocking stuffer for the food enthusiast in your life, or a complete makeover of your entire culinary collection, the boys of the bluecashew have the perfect mix of products for you. Check out the new bluecashew at 6423 Montgomery Street, Suite 3, in Rhinebeck.
Spruce Design + Decor,

High Falls
John Krenek & Jamie Niblock are offering even more unique style at the new home of SPRUCE DESIGN+DECOR in High Falls. The furniture, lighting and art of SPRUCE put the finishing touches on your home's style.
A fabulous assortment of throws, pillows, vases, tabletop and candles are just a few of the hand-selected essentials that complement your lifestyle. Local Catskills artisans are always represented at SPRUCE, with current features on Gwen Carlton's custom lighting, Kieran Kinsella's carved wood stools and TED one-of-a-kind jewelry.
You can find SPRUCE in downtown High Falls at 1209 State Route 213.

Babycake's Cafe & Bakery,

Poughkeeepsie
Located in the heart of the Arlington business district, Babycakes Café is popular with the Vassar College community and locals alike. This funky European-style eatery offers quality, made-from-scratch food in a casual setting.
Recently expanded to a 65 seat restaurant, the café now serves breakfast, lunch and dinner with take-out and catering available.
Everything from hand-rolled all butter croissants to house-made pasta can be found on the menu. Full bar service with a unique wine and beer menu makes this the place to be for a relaxing night out. Babycakes Café also offers live entertainment, including live music each Friday and Saturday, and special events like mystery dinner shows.
Fox and Hound Wines,

New Paltz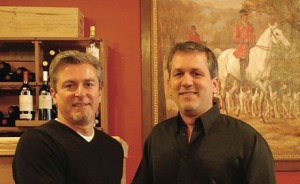 At Fox and Hound Wines, owners Nick and Tom strive to make wine shopping less intimidating for people. As they area's only gay-owned wine and spirits store, they provide a warm and welcoming environment where guests in their store are comfortable browsing and discovering wines for themselves.
With a  friendly and knowledgeable staff, they work hard to stock their store with a wide selection of hand selected boutique wines and spirits and to keep their prices as competitive as possible. For the owners, the name Fox and Hound Wine & Spirits captures an upscale Hudson Valley vibe and has allowed the owners to incorporate a portion of their personal collection of dog art and antiques into a store design that is reflective of their interests and tastes.
You can find Fox and Hound Wines at 20 New Paltz Plaza in the Village of New Paltz.


Cocoon,

New Paltz
One of our favorite places to browse for gifts, Julie Saffron's Cocoon, does a great job when bringing together unique – and very affordable – items from around the world.
Whether it be for your home, living room, bedroom or kitchen, you're guaranteed to find something fabulous on the shelves of one of our favorite places to shop.

You can find Cocoon right in the Village of New Paltz at 67 Main Street. You can also shop their store online.
Verde,

New Paltz
If you thought Cocoon had fun stuff for your home, then come and check out Julie's new store – Verde – right around the corner at 3 North Front Street. With some amazing products and accessories for your garden, Verde can help you bring the best of the great outdoors inside during the chilly winter months ahead.
Packed with great gift ideas, both Cocoon and Verde are like an adventure in shopping – with great new ideas around the corner. Of course, if you are not sure what to purchase for your loved ones, gift certificates to Cocoon and Verde are always a great option too!
Truman's,

New Paltz
Truman's is the area's newest gay bar, featuring the largest dance floor in the Hudson Valley.
Offering almost 10,000 sq. ft. of sexy sophistication and class, the bar features a variety of venues for no matter what your mood might be any particular evening. From comfortable lounge seating where you can enjoy dinner and a drink with your friends, to a smaller, more intimate "neighboorhood" bar, as well as as pumping and grinding dance floor, Turman's has something for everyone.
Looking to celebrate this Holiday? On December 5th Truman's is hosting their first Peepshow party featuring shadow dancers (did someone say "package"?), drink specials, giveaways and more. Then on December 12th, Truman's will feature their first annual Holiday Blowout!  Looking for the ladies? Starting Wednesday, December 4th Truman's will host a weekly ladies happy hour that includes afterwork specials on great wine, mixed drinks, and food from their very-own Chef.
Still lookin for a space for your Holiday parties? Truman's can accomadate any size party and will cater to your specific needs. Want to know more? Check out
Truman's website
, or give them a call at 845.255.4481.
Shana Lee Jewelers,

Hudson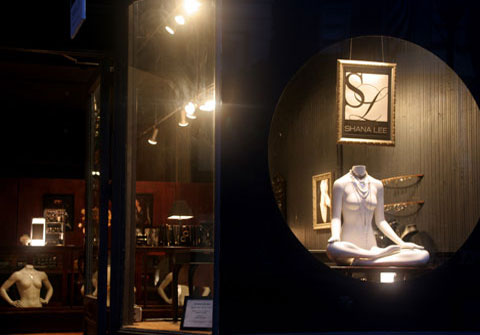 Originally from Brooklyn, NY, Shana Lee has been passionate about making jewelry since she was a young girl. We met Shana earlier this year when she made our wedding rings for our wild and crazy Amsterdam wedding.
With an incredible selection of her creations on display at her studio in Hudson, she creates spectacular pieces of jewelry for both men and women.
An incredibly personable jeweler, the objects that she creates resonate with energy. Each piece has an intention, an energetic purpose for the wearer; the goal of one piece may be to conjure up courage and beauty, while another offers a sense of grounding.
Shana wants all readers of BGHV to know that she'll offer you a 10% Discount on all purchases made in her store if you mention Big Gay Hudson Valley.com. Visit her studio online, or visit her studio at 521 Warren Street in Hudson.
Hudson Valley LGBTQ Community Center,

Kingston
Not sure what to get that special someone on your list? You know who we mean: the man who has everything, or the woman with impeccable taste.
Give the gift that fits everyone—a Membership to the Hudson Valley LGBTQ Community Center. Available through the Center's Website, just include the recipient's information on the form, select "gift membership," and enter your name and short message in the "Gift From" text box. The Hudson Valley LGBTQ Center will even send the gift membership card in a special package!
McMahon's Home Improvement,

Gardiner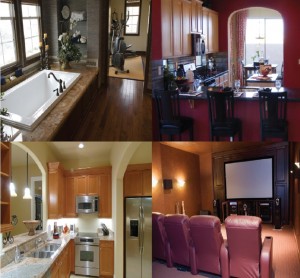 Born and raised in the Mid-Hudson Valley, Tom McMahon has over 24 years of experience in all phases of home improvement, custom design, and remodeling. Tom and his crew of gay-friendly/gay workers are also happy to assist non-profits and businesses to maintain their properties, and they were especially happy to work on the LGBTQ Community Center in Kingston and to have its Board President, Ginny Apuzzo, as one of McMahon's Home Improvement's staunchest supporters.
On Facebook®, the McMahon's Home Improvement Forum Page exemplifies his team's passion for "all things home" with educational and fun discussions. It also allows the community to connect with Tom personally on his f-book homepage or go to its website and utilize the helpful and valuable FREE tools he makes available there.
Tom wants all visitors to BGHV to have the perfect gift for the person they love by the end of the year—to help he'll offer you discounts on projects contracted by 12/31/09, including: $300 OFF *select services or $200 OFF all services of over $1,000. A free singing telegram announcing the gift is also joyfully offered.
---
Of course, there are many other gay-owned or gay-friendly places in the Hudson Valley that you might consider visiting for your holiday shopping needs as well. Wherever you spend your money this season, we hope you consider buying local – and patronizing those that support our community.
All the best for a healthy and happy Holiday season!
With Warm Wishes,
Stephan & Patrick