BGHV is proud to announce the return of  Men Drawing Men, with local gay artist, William Noonan. Last year more than a dozen of you participated in the series, and with interest being so strong, the artist has offered to host the classes again. Held at his home studio in Marlboro, NY, each class features a live male model. The four session class will run four consecutive Sundays; January 23, 30th, Feb 13th and 20th from 9:30am – 12 noon.
This class will offer an environment where men can feel comfortable exploring the male figure. Students will work from a live model starting with quick sketches and gradually build up to more finished drawings. Students will learn to balance their emotional response to the figure with anatomical knowledge and observation to create a variety of illustrations. This class is appropriate for any level student, from the beginner who wants to move beyond the stick figure to the seasoned artist who understands that one's study of the male figure never ends.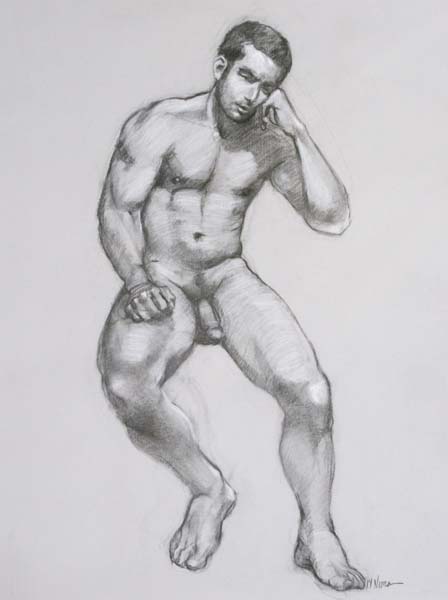 William has a BFA from SUNY Purchase and has since studied at the New York Academy of Art, the Woodstock School of Art, The International School of Art-Umbria Italy, and the Art Students League of New York. He has been deeply involved in the Hudson Valley's local art scene. William also teaches at the Wallkill River School of Art. An inclination for the figure, a deep love of Italian art and the investigation of his own Italian heritage, through travel and study, inform his work. While drawing on European traditions, his work is clearly part of the continuum of American Realism, from Homer to Hopper to Hockney.
Samples of William's work are included here within the post, although if you would like to see more, please visit his website. Interested in seeing more of his "racier" work? Check out his other – more adult – website, but don't say I did not warn you. 😀
The fee for the four sessions, including the model fee, is $160, plus the cost of your art materials. When you sign-up, a list of recommended materials will be supplied to you from the artist. Space in this intimate program is limited, so if you are interested in participating, be sure to sign-up today!
To register – or if you have questions – please contact the artist directly at; williambn@yahoo.com
Thank you for your interest, and we look forward to welcoming you to class in January!