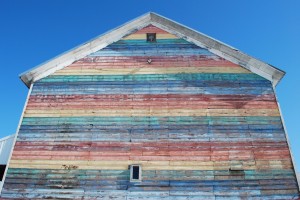 Happy Thursday Big Gay Hudson Valley Residents!
We had a great launch of Big Gay Hudson Valley this week, and in just 7 days more than 500 of you stopped by to see what we're all about. If you have not been back in a few days, be sure to check out how we've incorporated Facebook Connect right into the home page. This gives all Facebook members the opportunity to post comments directly to the site – easy & breezy!
If you have not yet joined our Facebook Fan page, please check it out.
OK, on to the upcoming events of the weekend of March 13th;
Friday, March 13th:
Happy Hour(s), Madalin Hotel, Tivoli, NY 5pm – 8pm
Saturday, March 14th:
Art Along The Hudson, Beacon, NY, 12pm – 9pm
Sunday, March 15th:
St. Patrick's Day Parade, Kingston, NY, 1pm
After St. Patrick's Day Parade Cocktails, Kingston Rondout, 3pm – 7pm (we'll be there somewhere)
CenterFamily, LGBTQ Center, Kingston, NY, 12 noon – 3pm
Monday, March 16th:
Mid-Hudson Valley Gay and Lesbian Professional Alliance, Big Easy Bistro, Newburgh, NY, 6pm
A Quick Preview for Next Weekend:
The Vagina Monologues, Rosendale Theater, Friday, March 20 & Saturday, March 21. Showtime: 8 p.m.
"The Vagina Monologues" will be staged at the Rosendale Theater on Friday, March 20 and Saturday, March 21 at 8pm. A benefit for HOPE's Fund, admission is $25 for general seating and $50 for a VIP ticket, which includes a pre-show reception, T-shirt, and membership to HOPE's Fund. To purchase advance tickets, contact the United Way of Ulster County. (845) 331-4199; cooperc@hvc.rr.com.
If you would like your events included in this weekly post, please add Stephan@BigGayHudsonValley.com & Patrick@BigGayHudsonValley.com to your e-mail distribution list to keep us in the know.
Interested in sponsoring this weekly e-mail blast? Your logo, as well as few lines of promotional copy can be added and distributed to more than 10oo visitors each week. Want to know more? E-mail us.
Have a great weekend!
S&P