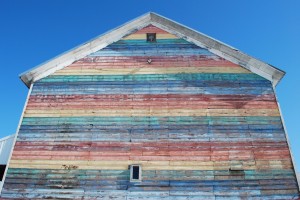 Hey hey everyone – welcome to Your Big Gay Weekend for March 19, 2009.  A couple of exciting new site features were launched this week:
We now have a working Event Calendar!  For those visually inclined viewers, click the link in the bar at the top of the homepage to check out a calendar view of all the goings on in our Big Gay Hudson Valley.  Registered users to the site can also post their own events to the calendar (to register, click the link at any comment box or login through the FacebookConnect link on the right side of the homepage).
Friday March 20, 2009
The Vagina Monologues, Rosendale, NY, 8 pm
Premiering their first ever live stage performance, the Rosendale Theater will host this incredible show Friday and Saturday night.  Tickets are available – act now!
Saturday March 21, 2009
Art Along the Hudson's "Third Saturday", Catskill, Poughkeepsie, and Rhinebeck, NY, All Day
Art Along the Hudson goes to Catskill, Poughkeepsie and Rhinebeck.  Local galleries, theaters, restaurants, historic sites and performance spaces will be offerings special showings and offers.  Check out each city's links for specials.    
Voices of Diversity at the LGBTQ Center, Kingston, NY, 11-2
Brunch and stories about growing up and/or coming out as a person of color.  RSVP by email or a call to Anibal at 845.430.7844.  
Sunday March 22, 2009
Kickoff of Hudson Valley Restaurant Week.  
Belly up to some of the best cuisine the Hudson Valley has to offer.  The festival will offer 3-course lunch menus for $20.09 (at participating locations) and dinner menus for $28.09.  Make your reservations now and be sure to bring home the leftovers.
The Rainbow Brunch, Montgomery, NY, 10-2
An all lesbian meet and greet weekly brunch at The Cauldron Restaurant.  From the group organizers:  "Womens Brunch draws singles and couples regularly from Dutchess, Orange, Ulster, Sullivan, and Columbia Counties. All ages welcome. We socialize, network, share information and enjoy each other's company. Come join us! Your table is waiting!"  For more info call Terry at 845.978.3850 or email Carolyn.
CenterSAGE presents Daffynitions at the LGBTQ Center, Kingston, NY, 1-3
Join CenterSAGE for a light luncheon and some fun! Test your brain with this hilarious and challenging game of twisted word definitions. For example, an adult is a person who has stopped growing at both ends and is now growing in the middle.  RSVP by email to confirm lunch, otherwise feel free to drop in.
And don't forget, if you check any of these events out this weekend, be sure and tell the people you meet that you heard about this event at Big Gay Hudson Valley!